Homeowners WordPress Real Estate is a fast loading optimized theme with Google Maps Integration, fully compatible with WordPress 3.0 features and all Real Estate markets (you add your own currency and metrics), a professional clean look packed full of features extremely easy to modify to be used as a WordPress Real Estate Framework with your own designs or it can be used with one of the 12 (New) styles provided.
English, Spanish and Portuguese language files are provided in the Developer Package.
Homeowners WordPress Real Estate features custom scripts that make add/delete/modify listings an easy task with an included photo gallery with a lightbox effect and automatic Google Map integration with street view (New)
Agents (Authors) will have access only to their own listings and the add listing management for their account making this theme an ideal affordable solution for Realtors and Real Estate agencies.
The theme can be used as a single or multi-agent website with individual Agent-Realtor pages with listings and biography information, Agent photo uploader, financing calculator.
Multisite feature of WordPress allow agents to have their individual sites with a different look than the main website with their own listings.
Multi Category search is provided for potential customers to the property in no time selecting multiple options from the search module.
WordPress IDX-MLS Real Estate Integration
Search the MLS
Out of the box, Real Agent WordPress Real Estate will integrate (optional) with the outstanding dsIDXPress plugin bringing data from your IDX and allowing your visitors to search the MLS.
The theme comes with preloaded templates to setup your IDX plugin in no time and have a great looking website for all your local and IDX listings.
Easy drag and drop widgets are provided with the dsIDXPress plugin to add search module, maps, listings summary and more on any page in your website.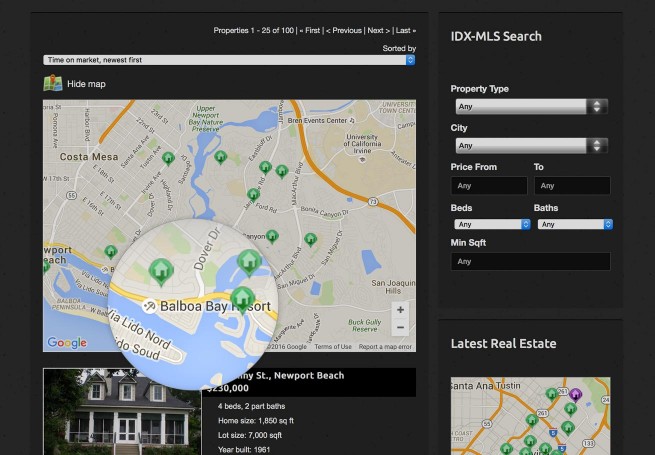 Property Information Module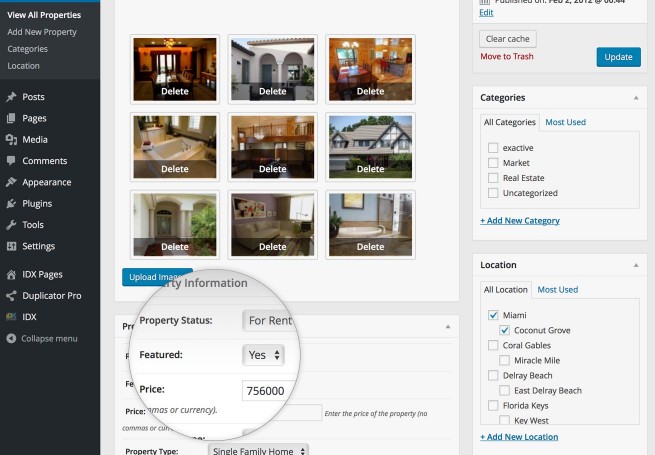 Local Listings
Add your property information in one place, from property price and status to full details, all property features, YouTube or Vimeo videos.
Location and Google Maps integration with street, Real Agent theme is the most advanced and easy to use WordPress Real Estate theme in the market.
Google Maps and location will be automatically added from the property listing address.
Add your own labels and values in your own language ( compatible with all markets) and switch the theme to your own language with English and Spanish files included with the ability to add your own language.
Multi-Category search with breadcrumb filtered results, easy photo gallery management with drag-drop sorting of images.
Currency and Metric Selector
Available in All Markets
Change your metrics and currency to your own with the included Currency & Metric selector module.
Real Agent is already preloaded with the most common currency symbols and metrics or you can easily add your own currency and metrics to the theme based on your business location.
Full theme documentation is provided for adding additional currency symbols for theme localization.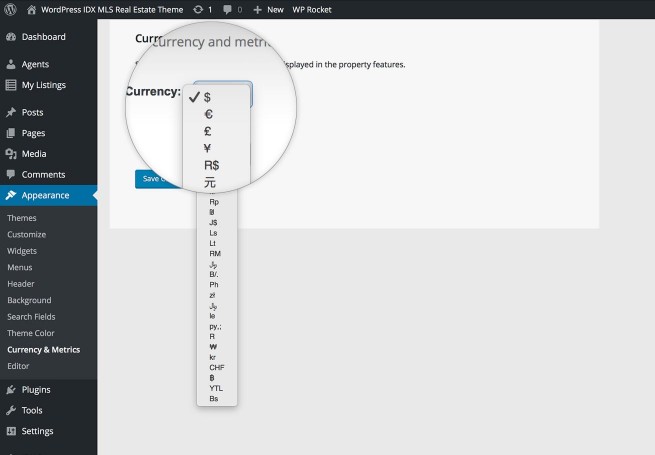 Search Module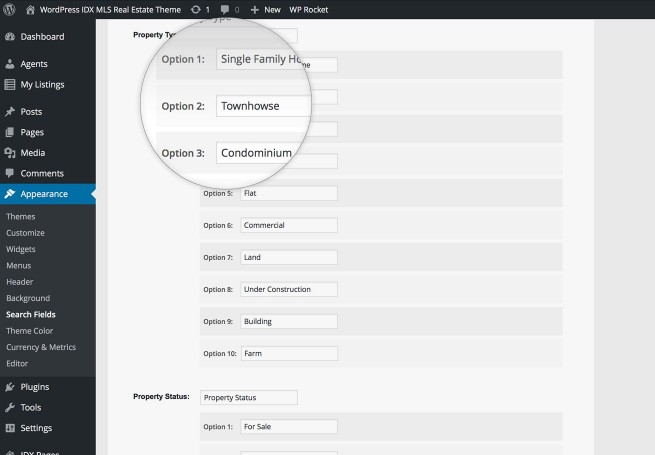 Customize Fields
Full property information module with property price, status, condition, year, features and detailed information is located in each property listing
Use the provided labels and property listing information or setup your own labels in the theme administration search fields module.
Add your own photo gallery to the theme and display gorgeous responsive mobile property listings galleries in any device.
Real Estate Widgets
Drag & Drop
Real Agent setup is easy as 1.2.3  with the exclusive Gorilla Themes widgetized modules where you can drag and drop your home widgets, carousel, news and latest properties section to their modules and add titles and number of posts to show in a matter of seconds.
Build your own multi-category search section menu with custom labels-choices and unlimited dropdown menus presented in a professional module with search results in breadcrumb navigation.
Write your listing address and have the automatically Google maps integration do the rest to show you the exact location of your listing in the property page together with Google Maps Street View option for an extremely close up detailed images of your property.
Upload property photos in bulk with the native WordPress uploader and the new image editing and resizing options in WordPress 3.0+
The theme features 5 different color styles, blue, black, red, green and purple with professional layouts, logo and agent photo uploaders.
This theme is suited for individual or multiple agents.