VIN Number Decoder
Get Vehicle Data Automatically
Input any VIN and with a click of a button get full vehicle data pre-filled in the listing and ready to be published.
Using Car Dealer VIN Decoder is the easiest way to add vehicles to your inventory, vehicle information can be added via VIN decoder or manually entered in each car listing in the Inventory administration module.
Vehicle data is provided for any car in the American market.
Batch import your existing car listings from any website with the provided XML & CSV Importer, map your existing fields to Car Dealer fields and click import to populate all your listings.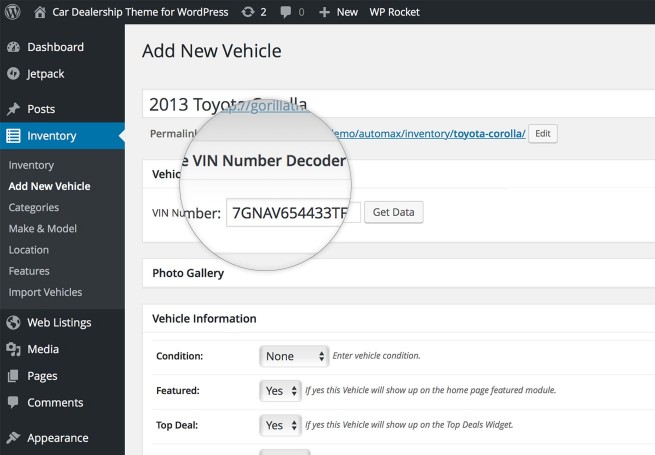 PayPal Integration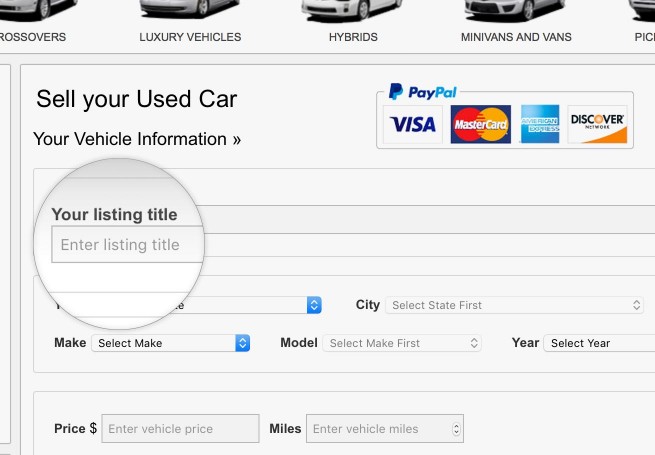 Monetize your website
Get paid by selling classified ads for used car listings.
Have you visitors submit their listings for a fee (or free) and monetize your existing website with the included PayPal integration module.
Add your own global listing fee, customize messages and landing pages in your own dashboard.
All listings are ready to be approved (optional) by the website administrator and accounts for your customers are created automatically at the time of submission.
Add your own design
Unlimited Color Styles
With Car Dealer theme you have unlimited styles possibilities.
With the included WordPress live customizer you can change any colors in your theme and get an immediate live preview.
Customize colors, background, add your own logo, menu, widgets and more in the WordPress customizer with live preview.
With unlimited styles you can give your company a fresh new design without editing any code.
Select your color modules and change the theme colors in one click.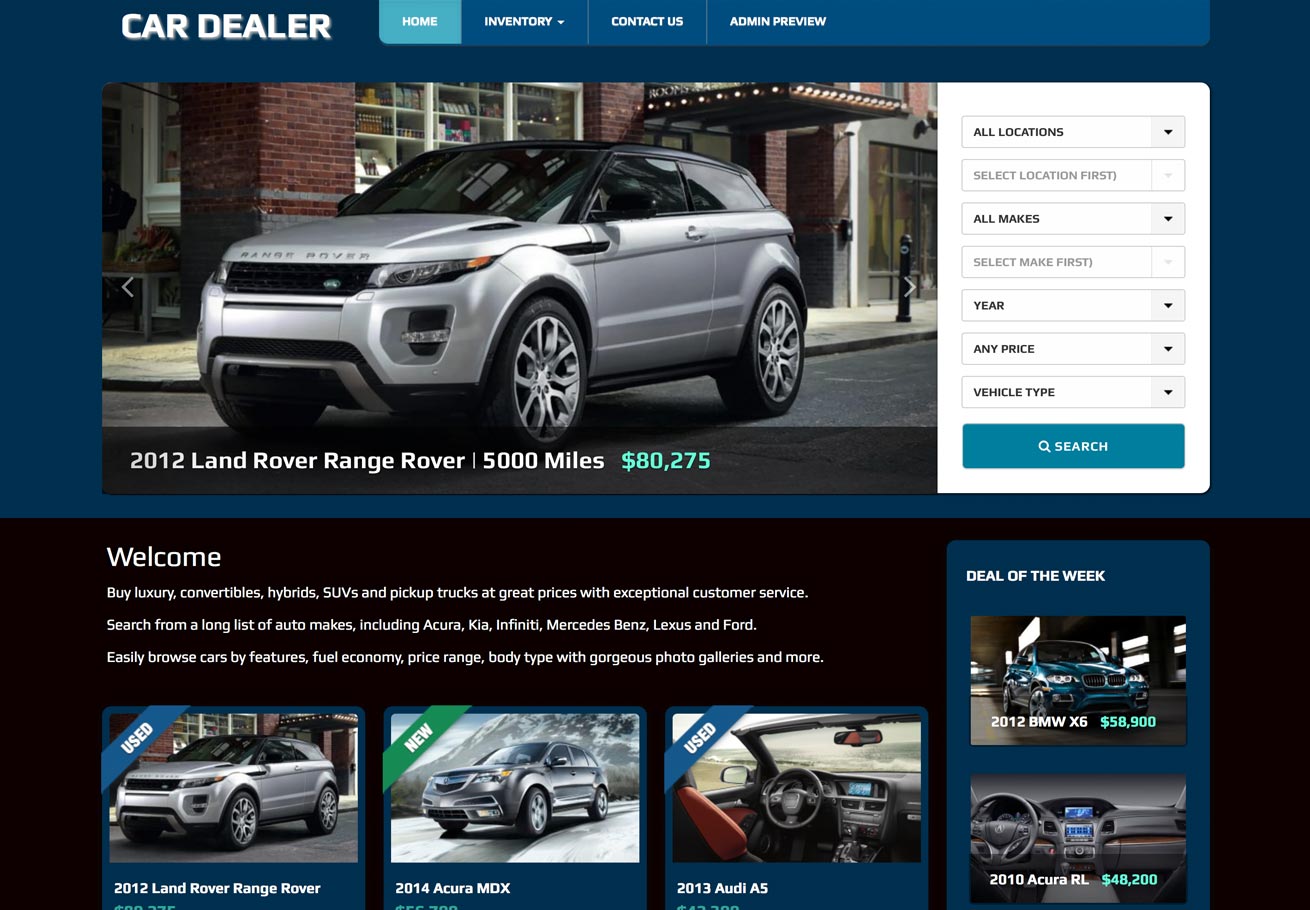 Full Live Customization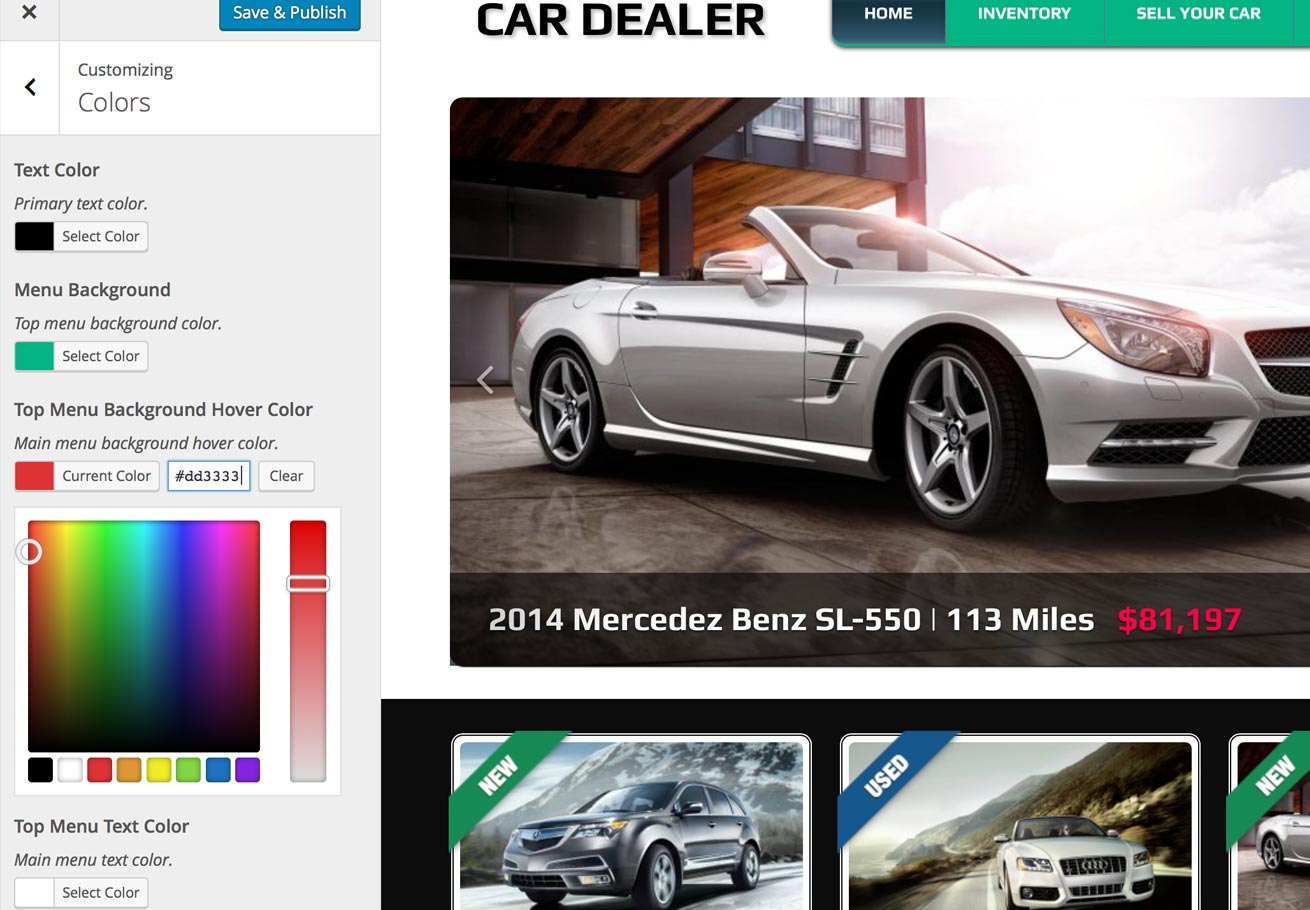 Unlimited Color Styles
Customize any aspects of the theme with the included WordPress customizer module.
Without refreshing your page, select any color module, change the color wheel and magically see your website colors changing live in front of your eyes matching your branding needs.
You do not need to edit any code to change your styles.
Add your company logo, change background color or background image, menu, text, widgets colors and more in one click.
Endless possibilities!.
Schedule Automatic Inventory Imports
Set it and Forget it
Create unlimited automatic scheduled imports with the included Schedule Inventory File Import.
Select from a variety or options like hourly, twice a day, daily, and more options to schedule your import.
Add your external CSV or XML file url and select import schedule.
Only once map all external fields to Car Dealer fields.
Photos, data and all vehicle information will get imported in the scheduled times selected.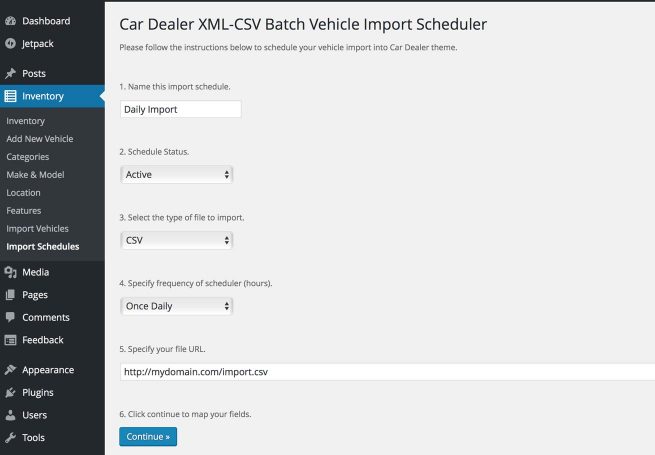 Import CSV & XML Files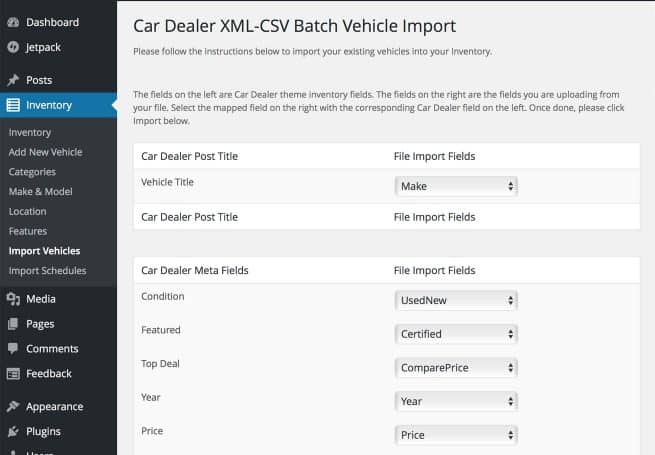 Batch Inventory Import
For one time import of XML or CSV files together with the Automatic Scheduler Import module Car Dealer ships with an easy to manage CSV or XML file import to migrate your inventory to WordPress Car Dealer theme in 3 easy steps.
Upload your XML or CSV file.
Map your previous inventory fields to Car Dealer fields together with photos, categories and all vehicle information.
Click Import.
Done!
Dealership Inventory
Inventory Management
Full Dealership inventory access in one click from your WordPress dashboard, price, make-model, VIN number, vehicle photo and more information is provided in a list style layout for easy inventory search.
Delete, edit & preview your car listings right from the inventory module.
Filter listings by Stock Number.
Search by Make & Model.
Bulk delete and edit of listings.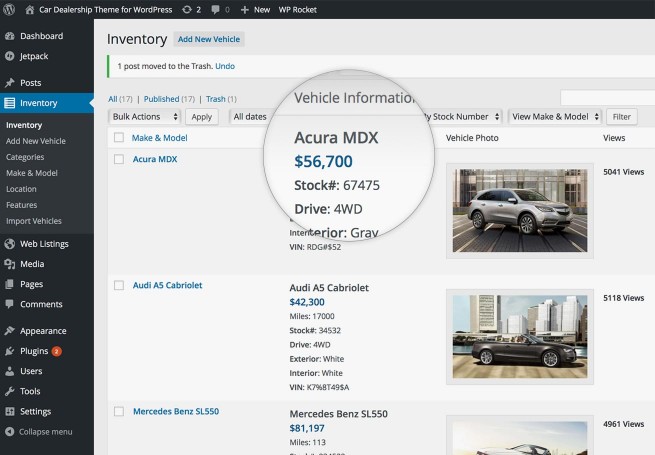 Vehicle Information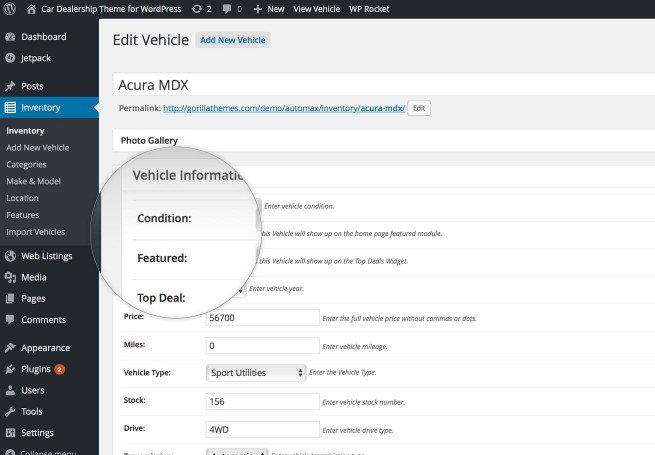 Customize Fields
Full vehicle information modules with condition, price, mileage, year, exterior color, interior color, vehicle type and much more are included in each listing.
Use the labels provided out of the box or setup your own in the theme search fields setup module the WordPress dashboard administration.
Photo Gallery – YouTube and Vimeo Integration
Add your own media
Add beautiful responsive photo galleries, upload batch images, publish, delete, re-order and edit photo information right from your listing editor, the theme will process, crop and resize your images to fit all modules.
Add video to your individual car listings with the included Video ID Module, copy/paste a YouTube or Vimeo video ID and the video will show up in the features and overview tab on single listing page and formatted to fit your layout.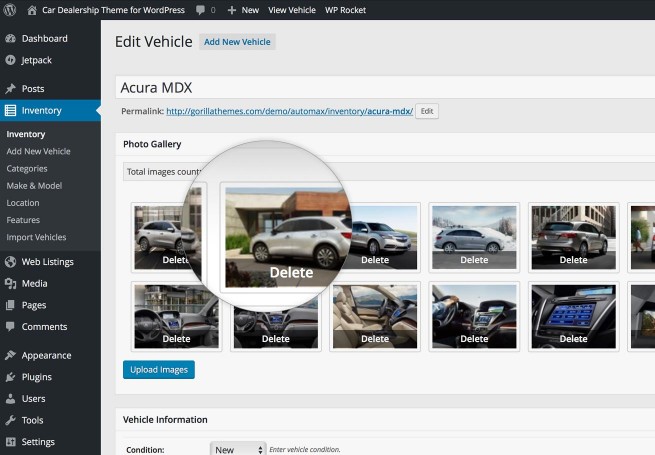 Search module.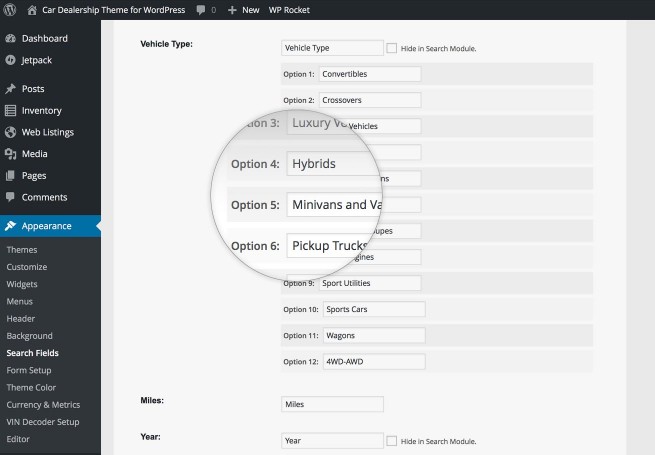 Add your own labels
Add your own labels and options in the search module section in your own language and translate the theme with the included PO files, English and Spanish languages are provided with the theme out of the box.
General Business Phone, Currency and Metrics selector will allow you to display the theme on your own language metrics and currency symbols.
WordPress Car Dealer theme widgets will give you the option to show and hide almost any part of the theme from your visitors and making Car Dealer a very flexible theme to showcase your car listings.